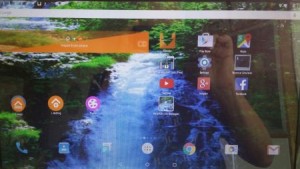 A great discovery
This morning I discovered (once again) how useful an Android-x86 system can be. As a matter of fact it can do everything the average computer user needs to do! I.e. you can browse the Internet with different browsers (for example Google Chrome), easily check your mail with the app Gmail or other apps, watch YouTube movies with the YouTube app, handle Facebook with the Facebook app, edit your photos with PicsArt Photo Studio and manage all kinds of documents with QuickOffice or WPS Office. You'll have to have Google Play Store installed though. And as an extra "App Finder" Aptoide App Manager (when you can't find the app you want on Google Play Store).
Replacement for Windows, Mac or even Linux Desktop systems?
Some belive what I just said. The Android-x86 Project (Run Android on your PC) is about porting the Android Open Source Project to x86 platform. My Android-x86 version 5 of May 4, 2015 has just about everything the average computer user can wish for pre-installed.
Pre-installed apps and prerequisites
Android-x86 KitKat 4.4.4 Exton build version 5 can run live (from CD) on almost all laptops (and some Desktop computers). For example Acer (Aspire), HP, Samsung, Dell, Toshiba, Lenovo, Thinkpad, Fujitsu, Panasonic and Asus laptops. The Android system is distributed in the form of an ISO file as the rest of my Linux distributions. I.e. you must (as usual) burn the ISO file to a CD if you want to run the system live on your computer or install it to hard drive. Read about how to burn ISO files. Or skip that. Just use ImgBurn. Nothing can go wrong. You can also very easy install the system to your hard drive and install new apps. You can also install new apps while running the system live. Google Play Store and Aptoide App Manager are pre-installed so you can just make your choice. My Android-x86 version 5 replaces version 1 and version 2 of my Android-x86 KitKat builds. In version 5 I've added the following apps: Google Play Store (quite difficult to install) Aptoide App Manager, YouTube, Nature Live Wallpapers, Rotation Control Lite, Facebook, WPS Office, QuickOffice, QuickPic and PicsArt Photo Studio.
Running Android-x86 Exton build version 5
When you run the system for the first time from CD, a USB stick or hard drive you can install Google Maps and Google+. You'll also get the chance to update Google Play Services to the latest version. Watch this slideshow.
Install Android-x86 Exton build version 5 to hard drive
That can be done virtually in VirtualBox if you don't want to touch your hard drive.. I.e. run it directly from the ISO file and install it to a hard drive created in VirtualBox. You can of course also make a "real" hard drive installation – see my instructions. Be sure to create a install partition of about 5 GB in advance with the filesystem ext4 if you already use Grub as boot manager or the filesystem ext3 if you want to install Grub during the installation of Android-x86.
USB installation
Also a very smart way ro run an Android-x86 system if you don't want to touch your hard drive. Installing Android-x86 to a "good" USB pen drive is almost as useful as having the system on a hard drive. I.e. if you install my Android-x86 version 5 on (for example) a SanDisk Extreme USB 3.0 stick the system will run very fast. And you can enjoy persistence of you follow my instructions under A). It is for AndEX (Android) Lollipop, but the same instruction works for my KitKat version.

Screenshots
The "live fish" Desktop pic 1
The "live tiger" Desktop pic 2
The "live fish in the sea" Desktop pic 3
The "live aqarium" Desktop pic 4
DOWNLOAD android-x86-4.4.4-kitkat-kernel4-exton-GAPPS-500mb-150504.iso for 9 $